Useful Materials
Glossary
References
What are Non-Tariff Measures (NTMs)?
Non-tariff measures (NTMs) are policy measures other than tariffs that can potentially have an economic effect on international trade in goods. They are increasingly shaping trade, influencing who trades what and how much. For exporters, importers and policymakers, NTMs represent a major challenge. Though many NTMs aim primarily at protecting public health or the environment, they also substantially affect trade through information, compliance and procedural costs.
How to upload NTMs through TRAINS Online
Step 1: Go to: dataentry.trains.unctad.org
Step 2: Create an account by filling in your information and submit. UNCTAD admin will assign role-based access control to you.
Step 3: Login on TRAINS Online and fill in the online forms with as much information as possible.
Step 4: Submit for review and data validation.
Methodology and Tutorials
Links to downloadable documents and tutorials that will help you to understand "What are NTMs and why are they important?", "How to identify and classify NTMs?", as well as how information on NTMs are collected at UNCTAD.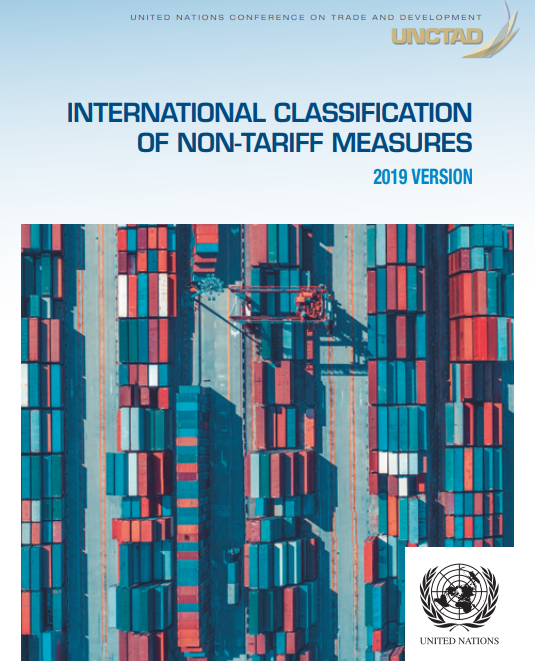 The International Classification of Non-tariff Measures (NTMs)
The Classification was developed by numerous staff members of several international organizations (FAO, ITC, OECD, UNCTAD, UNIDO, WB and WTO) forming the Multi-Agency Support Team, commonly known as the MAST group.
The Classification follows a taxonomy of all measures considered relevant in today's international trade. It comprises technical measures, such as sanitary or environmental protection measures. Moreover, it also includes other measures traditionally used as instruments of commercial policy, e.g. quotas, price control, exports restrictions, or contingent trade protective measures. It also comprises behind-the-border measures, such as competition, trade-related investment measures, government procurement or distribution restrictions.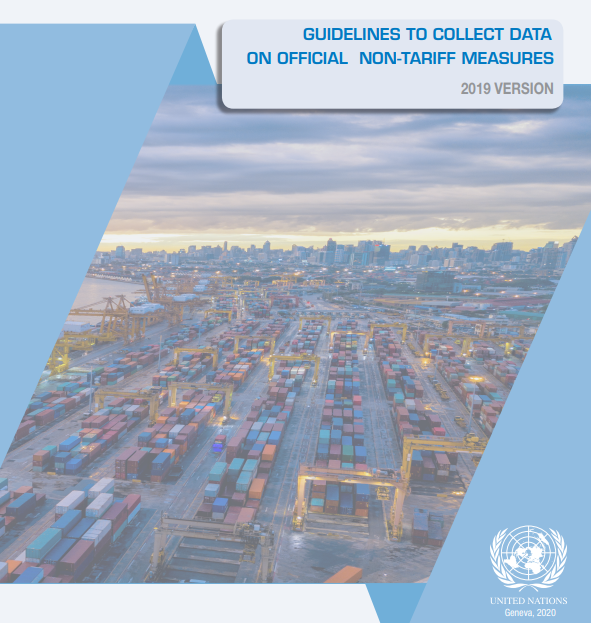 Guideline to Collect Data on Non-Tariff Measures (NTMs)
The purpose of the guideline is to provide instructions to data collectors to harmonize the NTM data collection process and to minimize uncertainty during the process of categorization and classification. In doing so, the guideline present the logic behind the International Classification of Non-Tariff Measures (NTMs), and it explains how to choose the most appropriate NTM code. This guideline provides a large set of examples, and it is regularly updated to respond to queries and questions emerging during the data collection exercise.
Online Tutorials
1. Non-Tariff Measures and Data Collection (NTMs)
The objective of the course on Non-tariff Measures and Data Collection is to increase the understanding of the International Classification of NTMs and the collection of NTM data.
2. Executive Online Course on Non-Tariff Measures (NTMs)
The executive online course on NTMs is an easy, concise but comprehensive introductory course. It serves as a starting point of obtaining knowledge of NTMs and offers an overview of UNCTAD's work on this topic. Through the course, audience will be able to understand (1) what NTMs are and why they are important, (2) the effects of NTMs and their linkages with SDGs, (3) how UNCTAD works on NTMs and (4) how UNCTAD can provide value to the audience.
Glossary
DATASET
Datasets are used as containers for the data collected in a country. A dataset defines the coverage of the collected data in terms of:
List of NTM chapters in the NTMs classification. The version of the NTMs classification is also specified. A dataset can be of only one NTMs classification version.
The country covered
The period covered indicated as a list of years. For each of the years covered the version of the national products classification used for the HS coding is also indicated.
A Dataset has a unique, unambiguous name. For example: UNCTAD NTM Data Collected in Thailand; ITC NTM Data Collected in Morocco; ALADI NTM Data Collected in Latin-America countries; WTO Antidumping and Countervailing Measures in all WTO countries.
SOURCE
Usually an official website maintained by a government agency where regulations can be downloaded or read online.
REGULATION
A regulation is a legal document issued officially by a government, such as an act, law, decree, rule order, directive, notice etc. The regulations collected are those imposing mandatory NTMs that affect imported or exported products. An official regulation could bear several NTM. Regulations are active from their date of entry into force (also called implementation date) to their revoke date (also called repeal date).
AGENCY (ALSO REGULATORY AGENCY, OR REGULATORY AUTHORITY)
A public authority or government agency, which is responsible to regulate specific subject matter in a country. Examples: US Environmental Protection Agency; US International Trade Commission; European Food Safety Authority; Argentina Ministry of Finance, Department of Revenue; India Ministry of Environment and Forests, Institute of Forest Biodiversity
A regulation can be made under the authority of one or several Agencies.
COUNTRY IMPOSING
Country where the regulation is enforced. A regulation can be enforced by several countries In the case of customs unions or regional trade agreements.
MEASURE (SYNONYMOUS TO NON-TARIFF MEASURE, OR NTM)
A measure is a mandatory trade control requirement enacted by an official regulation. Each regulation or legal document must be read to distinguish all measures within its text. Measures are classified based on UNCTAD's International Classification of NTMs.
NTM CODE
Each Measure extracted from a Regulation is coded with one and only one NTM code. UNCTAD's International Classification of NTMs provides for the typology of NTM codes, specifying mutually exclusive and collectively exhaustive NTM types. Developed by the MAST group international organizations under the leadership of UNCTAD, the classification is designed to facilitate the comprehensive and comparable collection, analysis and dissemination of data on NTMs
The classification has been revised several times. The current version of the NTM classification is called 'M3'. A new version will be released this year and will be called 'M4'. A reclassification of all Measures from the M3 to the M4 has been done in the TRAINS Online.
MEASURE AFFECTED COUNTRIES
Most Measures apply to products imported from any partner country. However, some of them are applied to products from specific partner countries only. Examples: Armenia, Belarus and Russia; Parties which have signed the Basel Convention; World, except Central America and the West Indies.
The affected countries are coded with a classification derived from the ISO/UNSD country codes.
MEASURE AFFECTED PRODUCTS
Each Measure may affect some specific products or a wide range of products. Products in this project are defined as categories of goods that can be moved across international borders from a seller to a buyer. Examples: Soft drinks; Sunglasses; Live flowers; Vacuum cleaners.
Note: A product is never a specific brand ("Pepsi Cola") nor a specific item on a shelf ("this bottle of Pepsi Cola").
The affected products are coded with HS codes from the National Product Classifications of each country, which are extensions of the international classification called the Harmonized System (HS).
The only HS codes level accepted in the list of affected products are HS 2-digit, HS 4-digit, or HS 6-digit.
HS CODES (ALSO PRODUCT CODES, OR COMMODITY CODES)
The Harmonized Commodity Description and Coding Systems (HS) is an international nomenclature for the classification of products. At the international level, the HS comprises approximately 5,300 product codes and descriptions that appear as headings and subheadings, arranged in 99 chapters, grouped in 21 sections. The number of digits of the code indicates its position in the classification hierarchy. Subheadings are the last level in the HS hierarchy and are coded with six-digit codes.
The HS classification is revised every five years. The current version of the HS classification is called HS 2017 or 'H5'. A few countries have adopted the HS 2017 classification for their National Products Classification, but many are still using the previous HS 2012 (H4) classification or older.
PRODUCT GROUPS
When entering the list of affected products in a Measure, it is possible to select either individual HS Code or Product Groups. Each Product Group is defined with a unique name and a list of HS Codes in one HS classification.
Currently, predefined Product Groups are created by the Admin. They can be selected from any internal Dataset. It is expected that authorized user (HS Coder and HS Code Supervisor) will be able to create their own Dataset-specific Product Groups, that will be visible only from within one Dataset.
MEASURE OBJECTIVES
For each SPS and TBT measure, one or several objectives may be selected if, and only if, this objective is stated in the regulation.
OBJECTIVE CODES
Objectives are coded with the classification shown in the table below:
| Code | Objective |
| --- | --- |
| A | Protection of human life and health |
| B | Protection of life and health of animals |
| C | Protection of life and health of plants |
| D | Control drug abuse |
| E | Protection of the environment |
| F | Protection of wild fauna and flora |
| G | Protection of national security |
| I | Protection of national treasures of artistic historic or archaeological value |
| X | For purposes n.e.s. |